Since getting married a little over a year ago, Jason and I have reveled in how alike we are, and how much easier married life is when you share your spouse's perspective and priorities. We both believe deeply, for instance, that the preparation and consumption of really good food is one of life's most noble causes and one of the budget's most deserving line items. If we had a budget, that is.
That's the problem with being so like-minded. We don't always balance each other out so well. Our shared love for good food and our common approach to finances can spell "trouble" in addition to "bliss." The rising cost of everything doesn't help our cause.
Last week we decided to get our finances in order. Jason is not only a fabulous cook, he's a Quicken expert—a talent I hadn't yet tapped. It was time. He sat at the dining room table to set up our budget and enter August's expenses.
"You don't want to see how much we spent on food last month," he said a while later. I, of course, went immediately to look over his shoulder. It was staggering. Even for a family of five. We vowed to plan more and splurge less.
As we pushed our cart out of the grocery store Monday night, we were feeling frugal and pleasantly sacrificial. It's good for us, we said. It can even be a fun challenge. And we've done it before: We each had to be incredibly frugal when we got married to our first spouses.
As we were leaving the store, though, a poster caught my eye. To be more exact, these three words reached out and grabbed me: "$1,000 Free Groceries!" Maybe frugality wouldn't be necessary after all. We picked up a brochure.
To enter the free groceries contest, you simply need to share a "family favorite" original recipe. We started brainstorming right away. (Once we figure out what to submit, I'll share it with everyone here.) Can you imagine how great $1,000 of groceries would be?
But there is also a very sobering aspect to this contest. It's a gimmick designed to raise awareness about "Family Day: A Day to Eat Dinner with Your Children." The brochure goes on to describe "Family Day" as "a national effort to promote family dinners as an effective way to help keep kids substance-free." Then it spouts a variety of statistics about teens who have "fewer than three family dinners per week." The gist is they're significantly more likely to abuse prescription drugs and to use tobacco and alcohol.
My first reaction is that the idea of setting aside one day each year to eat dinner as a family is absurd. It's akin to Earth Day—a single day to respect our planet and think twice about recycling. It makes me crazy, even though I know the idea is to raise awareness and develop good habits in more people throughout the year.
My second reaction? Profound sadness in knowing just how many kids don't sit down at a table with their families on a regular basis, let alone eat food that's healthy and interesting. There are a lot of big, global issues weighing on me, but there's perhaps nothing that tugs at my heart more than this when it comes to local, individual, day-to-day problems.
Last night, Jason made what's a fairly typical family meal in our house, even for a week day (although trust me, sometimes it's hamburgers and chips): seared salmon over lentils with sweet potatoes, spinach and fresh herbs. The girls gobbled it up. They also gobbled our attention, as they each shared stories from their day. Q showed us a research journal she's keeping; H explained the plan for the middle school band to play at the football game Friday; S could hardly contain herself as she waited her turn (she even had her hand raised persistently in the air, until I made her put it down, assuring her she could talk next).
As far as Jason and I are concerned, the food matters—it really matters. But ultimately we're fed more deeply by the experience of being around the table as a family, watching our kids grow healthy in body, mind and spirit as a result. Even if setting aside a national day to eat dinner as a family seems like a feeble step, I deeply hope and pray it's one that many, many families take.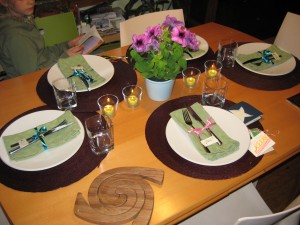 Similar Posts: