Last week, I got an email from my friend Debby, who's also a writer and recently began reading my blog. She shared just the sort of feedback I love: part complimentary, part constructive. "I think it's great that you're able to write just like you talk, with your humor and mildly acerbic wit," she wrote. Then she suggested that perhaps I should make my entries a bit shorter.
I know, I know! My posts are longer than average, and I'm determined to try shortening and mixing them up. I have proof that I am capable of brevity. I counter my macro blogging practice with micro blogging on Twitter (I'm kt_writes). To share something surprising, poignant, funny or insightful in 140 characters or less is a great writing exercise (especially for the likes of me).
So, here's to good friends with honest feedback, to a different kind of blog post, and to the beginning of a new week: A few recent tweets to paint a brief picture of my weekend.
- 2:44 pm, Sept. 26: "wrote to g-ma on Monet note card found at back of desk drawer. changed sheets; 1st x using pillowcases D made for our wedding. too pretty."
- 3:22 pm, Sept. 26: "just picked tomatoes. now drinking iced coffee on the porch w the scent of tomato plant on my fingers. I'm not ready to let go of summer."
- 5:44 pm, Sept. 26: "today has been filled with logistical conundrums surrounding kids, cars, clocks and phones. it's happy hour now, right?"
- 1:21 pm, Sept. 27: "biking to the market is quaint, until you try to bike home w 2 iced coffees, 3 lbs apples, oats, lentils, bacon & a new Obama yard sign."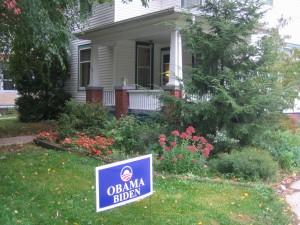 - 3:31 pm, Sept. 27: "we just saw a guy walking down the sidewalk in our neighborhood wearing just a terry robe, w a towel over his shoulder & a toiletry bag!?!?"
- 2:14 pm, Sept. 28: "want to send the kids out back to pick up all the walnuts so I can mow, but they're falling w such frequency that it feels like a war zone."
- 6:09 pm, Sept. 28: "trying to get to the heart of what I believe before my "This I Believe" essay class. but the more I think, the less I know."
- 9:26 pm, Sept. 28: "kids are in bed. late for a school night. S has so many books in her bed, there's hardly room for her. 'I like sleeping on books' she said."
- 8:32 am, Sept. 29: "second walk to school, 1st time to deliver girls, 2nd time to deliver forgotten homework. happy Monday indeed."
And happy Monday to you.

Similar Posts: