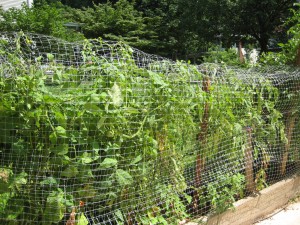 I've been fretting and Twittering away about squirrels a lot lately (I'm kt_writes, if you want to follow me, and you'll be glad to know I tweet about many other topics, too). Here are a few sample tweets, just for flavor:
Back on July 29: "More tomatoes stolen, others nibbled right on the vine. So tempted to get a BB gun & catch one red-pawed. A scape-squirrel, if you will."
On Aug 2: "Buying chicken wire to protect our garden. Neighbor said: your yard is like a squirrel grocery store. I said: Yeah, and they're shoplifting."
And the Tweet I left just Monday, after putting hours into rigging up a complicated contraption around our four tomato plants: "My war w the squirrels continues. I'm starting to feel like a Loony Toons character who's obsessed by attempts to thwart the mouse or cat."
Clearly the squirrels have gotten to more than just my tomatoes. They've gotten to me. They're in my head, chattering, scampering, mocking me. The squirrels were the first thing I thought of when I gained consciousness this morning, and they're the main reason I won't be able to write at my dining room table today: I can see my tomato plants through the dining room windows.
We've happily harvested a good number of perfect yellow pear tomatoes, which the squirrels don't seem to like the color or shape of, or that plant's highly visible position. But each time one of the more traditional varieties starts to turn from orange to red, with us monitoring it several times a day, it disappears—moments, it seems, before we're about to pick it. We've lost a dozen or more large tomatoes this way, and have not yet tasted even one.
Even though it might not seem like it, I am trying to not let the squirrels get to me. They are, after all, wild rodents with brains smaller than a cherry tomato itself. They can't actually be mocking me and playing with my mind, right? Even though it seems like they're sitting in our tree artfully aiming black walnuts at my head, they're not actually precise creatures, right? Right.
So why do I feel driven to kill a living creature for the first time in my life? Sure I've accidentally stepped on ants and purposely slapped mosquitoes and squashed slugs. But I've never felt this kind of survivalist drive to protect what's mine, at about any cost. I almost don't want to admit this, but I saw a flattened squirrel on the street in my neighborhood yesterday and felt a certain satisfaction. It's an ugly feeling, even if it's one that a lot of people in my shoes would (and do) share.
They're only tomatoes, of course, and I don't want to overstate the situation. But I see possible parallels to much larger, scarier scenarios in our society. The parallel goes like this: I try to nurture and create something good and beautiful, even if it's small. No matter what I do, I feel thwarted at every turn. I begin to feel helpless and hopeless. Before long, I'm just angry and want to lash out and make someone pay. Essentially, I feel an intense urge to enact justice.
When I think about it like this, I am humbled. I'm also grateful that the only situation in my life that really makes me feel this way is one that deals with squirrels and tomatoes. Scores of people in my own community and certainly around the world feel this way about their very lives. When it comes to my squirrels, I'm convinced that I can have a bit more compassion and a more peaceful heart. When it comes to the greater injustices in the world, I'm more convinced than ever of my responsibility to do something that will help put an end to these vicious societal cycles.

Similar Posts: