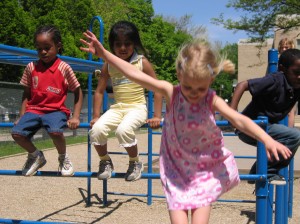 School starts tomorrow, and the whole community seems to be on the verge of a collective sigh of relief. But anxieties are high, too, as they always are when our darling children are about to transition into new social and academic situations. We're quite certain, after all, that (fill-in-the-blank) grade could be THE make or break year—the year they fall in love with math or decide they're hopeless at it; the year they seal their friendship with the friend we would chose for them if we could, or they fall in with a crowd of under-achieving, disrespectful hooligans.
I've learned to keep my Mama Bear instincts from surging this time of year (or perhaps they're just engulfed by my overwhelming relief that school is finally starting). But everywhere I go, I hear parents talking about it: who their child's new teacher is, what they've heard about him or her, how the class list makes it look like a disproportionate number of challenging kids ended up in the same class, etc. etc. The flurry of drama begins when the class lists are posted on the school doors—usually about five days before the start of school—and continues into the first week or two of school. Then everyone seems to settle down, for the most part.
Today I received an email from the father of one of my daughter's classmates. He is very concerned about the number of kids in our daughters' new class who speak Spanish as a first language (15), versus those who speak English at home (six), and wanted to know if I was interested in joining forces to communicate concern to the principal. My general sense is that my kids will gain more than they will lose from sharing a classroom and teacher with children who are different from them, so for that reason alone, I don't plan on getting involved. (I wrote a post about some of these perspectives last year at this time.)
But there's another reason I hesitate to get involved. It has to do with maintaining a balance between advocating for my own children and advocating for all children. I really go back and forth on this issue, at least when I'm thinking about my kids. After all, as parents, it's our job to look after and protect our children in whatever way we can—socially, academically and physically. The argument starts to fall apart, though, when you look at the many children whose parents aren't advocating for them. Some of those parents don't have the time or energy, others don't have the skills or confidence, and others aren't able to look critically enough at their children's situations to even detect where intervention is called for. So are those kids simply out of luck?
Jason and I were talking about the issue today at lunch, and he made a good point. Although he went to elementary school in what was considered at the time the worst school system in the country (Chicago Public Schools), his parents taught him that people mattered. Everyone mattered. (Jason, as it turns out, is no dummy. Plus he has a huge heart and one of the highest E.Q.'s of anyone I know.)
That's what my parents taught my brother and me, too: everyone matters, and we need to look out for others—even strangers and the less-than-desirable. Sure, our parents looked out for us in every way, assuring we had wonderful opportunities for growth in our average schools. But it was always clear to me that they didn't believe in a survival of the fittest type of world. I think I knew from the time I started kindergarten that they were Democrats because it was the party that did the most to look out for everyone, not just the people with money and power and education. The United Methodist Church I grew up in, and my parents still go to, is also intensely focused on looking out for others. They have an Open Door Ministry, which involves the church's doors being open daily to homeless people who need lunch, laundry and showers, a place to sit and someone to talk to.
I'm not saying it's easy to truly look out for others (and I know I'll never be able to live up to my parents' example). I vacillate between extremes: worrying that I'm not walking the advocacy talk like I should, and worrying that my kids won't live up to their potential unless I devote enormous amounts of time and energy to making sure they get the best of everything. And I guess, as a parent and member of the broader community, it's a good line to be aware of and even wobbling around on, trying to catch my balance. As far as my kids are concerned, I know the school year ahead holds many valuable lessons that will build on their E.Q.'s as well as their I.Q.'s.

Similar Posts: